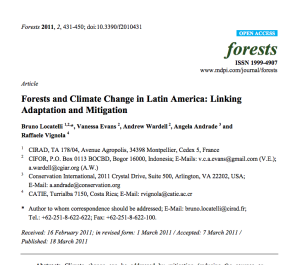 Descargar
País:
Lugar: Basel, Switzerland
Editorial:
Año de publicación: 2011
Idioma: Inglés
Autores: Locatelli, Bruno / Evans, Vanessa / Wardell, Andrew / Andrade, Angela / Vignola, Raffaele
Forests and Climate Change in Latin America: Linking Adaptation and Mitigation
Scientists and policymakers can consider two options for addressing climate change: mitigation, which refers to reducing the sources or enhancing the sinks of greenhouse gases (GHGs), and adaptation, which refers to responding to the effects of climate change. Mitigation and adaptation are two fundamentally dissimilar approaches and present well-documented differences. With both these strategies being implemented across Latin America, it is necessary to explore the relationships between them, especially potential synergies or trade-offs, and interactions with development plans and institutions in order to maximize their efficiency.
Forests play an important role in both adaptation and mitigation, as they provide local ecosystem services relevant for adaptation as well as the global ecosystem service of carbon sequestration, relevant for mitigation. Consequently, just as there are synergies and trade-offs between global and local ecosystem services, there are synergies and trade-offs between mitigation and adaptation in forestry projects: mitigation projects can facilitate or hinder local people's efforts to adapt to climate change, and adaptation projects can affect ecosystems and their potential to sequester carbon. In Latin America, some mitigation projects have demonstrated positive impacts on community adaptation, and some adaptation projects have resulted in an increase in carbon stocks. Nevertheless, no project has exploited these synergies fully. Furthermore, few climate change or forest policies in Latin America have addressed the linkages between adaptation and mitigation in the forestry sector.
In this paper, we examine climate change adaptation and mitigation in the context of tropical forests. We explore linkages between climate change mitigation and adaptation in ecosystems, projects and policies. Case studies from selected Latin American countries illustrate our points.
Autores: Locatelli, Bruno / Evans, Vanessa / Wardell, Andrew / Andrade, Angela / Vignola, Raffaele