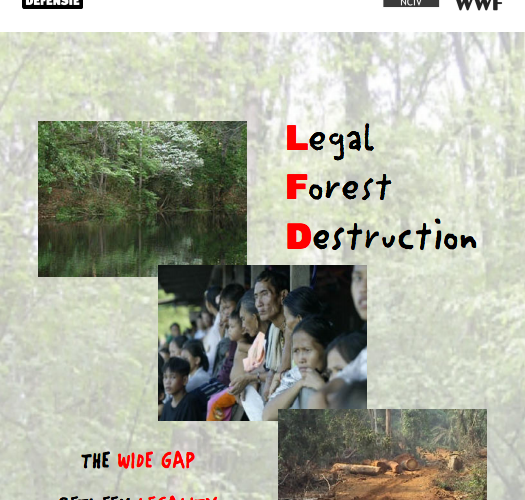 Descargar
País:
Lugar: Paises Bajos, Netherlands
Editorial:
Año de publicación: 2006
Idioma: Inglés
Autores:
Legal Forest Destruction: the wide gap between legality and sustainability
Illegal logging is a global and complex problem that is not esay to tackle. It is the therefore crucial that the right measures are taken. Legality is often presented as a necesary first step towards sustainability – recently in Europe the timber trade has introduced legality claims and national governments have included legal timber in their public procurement policies as a way of addressing illegal logging.
Dutch timber traders, for example, support the promotion of legal timber through voluntary trade mechanisms, and the Dutch government considers including legal timber in its public procurement policy. To address the problem of illegal logging, the European Comission recommends the development of Voluntary Parntnership Agreements (VPAs) with timber producing countries which are aimed firstly at helping these signatory countries improve their governance and forest management and secondly, implementing a licensing system to ensure that they only export legal timber ti Europe.
This report aims to provide more insoght in the realities of legal logging. It presents cases of legal logging on every continent and in a variety of forest types, in which the negative social and ecological effects are profound. These negative effects result in "legal forest destruction", defined as "harvesting of timber and/or other forest products in accordance with national legislation, but which is economically, socially and/or environmentally detrimental".
This report thereby provides strong signals to governments and timber traders that are taking measures to combat illegal logging, that legal logging is not always asosciated with sustainable forest management and that these proposed or taken measures can have serious negative effects on attempts to work towards sustainable forest management. Without strong safeguards, the political action undertaken by the EU may lead to the legalisation of forest destruction, increase unsustainable trade and consumption of biodiversity resources, and undermine the efforts to establish sustainable forest management.
We reject the idea that legality is the first step towards sustainability. Legality and sustainability must be combined. Compliance with the laws of timber producer countries should not be a first step or an end goal, but a pre-condition to accessing the EU market. Each company should be obliged under the EU law to demonstrate the legality of the timber products it buys and sells on the EU market and be made accountable for that. This should not require incentives or voluntary mechanisms.
The role of the EU is to ensure that sustainability goes hand-in-hand with legality. The external policy of the EU, including the VPAs, should therfore aim to promote and support the efforts of timber producer countries to get truly sustainable forest management in place. This action, combined with the adoption of domestic measures such as a licensing scheme and environmental procurement policy for timber products, should also aim to ensure legal and sustainable wood supply ti the EU.
If the EU has one end goal, we belive it must be ti promote an equitable and sustainable trade regime for timber and forest products, which will promote social equity and poverty alleviation, contribute to ecologically responsible forest management and end biodiversity loss.
Ten cases of legal forest destruction are presented in hcapter 2 of this report, illustrating a wide gap between legality and sustainability. Chapter 3 draws conclusions from ten cases and provides recommendatios to governments and the Dutch timber industry.